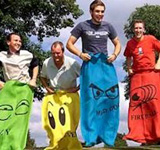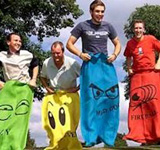 We all remember the days when we competed in the yearly school sports wearing our very best pumps and green bib. Running as fast as we could to get extra points for our teams and achieving hero status with our friends. There was nothing quite like the feeling of being asked to join the rest of the team on stage in assembly to raise the trophy.
Well here is the chance to revisit that moment or for those who never took stage at the end it is their moment to shine. FunkiMunki will provide the school sports event incorporating all the games that we loved to hate.
After the initial warm up routine the group will be divided into pre determined teams and all guests will compete. The races will consist of the following -
Egg and Spoon Race – six guests from each team are nominated to take part. Run as a relay – each guest covering 50 meters each.
Three-Legged Race – six guests from each team are nominated to take part in this three-legged relay.
The Giant Sack Race – Using large sacks there will be three guests in each who must cover 50 meters. Nine guests from each team will compete in 3 heats.
A Wheelbarrow Race – FunkiMunki will provide three wheelbarrows and one guests from each team will have to cover 100 meters pushing the barrow. As they run their team members will throw plastic balls into the barrow. The objective is to collect as many balls as possible within a given time.
An Obstacle Course – The course will involve Hula Hoop, Bat and Ball, Cargo Net, inflatable Hurdles, Tyres and Coconut shy.
The Bean Bag on the Head Race – Each team nominates six team members to compete in this race over six heats.
Welly Wanging – Each team nominates six team members to hurl a welly as far as they can
The Costume Relay Race - At various points along a 100-meter track we will have located different items of clothing. Teams rotate and collect an item at a time. When they return they must dress the mannequin who is one of their team – once complete the teams are the winners.
Enquire now or call now on 0845 508 5508
Related categories: Team Building