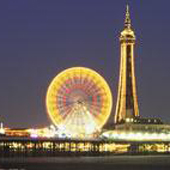 Blackpool definitely rocks!
The original stag / hen destination of the UK, Blackpool guarantees a one off experience of wild, reckless pleasure. Blackpool is not host to the most cultural of sities but if it's a pier, beer and the odd leer you're after Blackpool is the place for you.
Blackpool is known also as the "Las Vegas of the North" this is due to the abundance of slot machines, bingo clubs, cheesy cabaret acts and bars bursting with happy hours and promos. Blackpool can guarantee you a laugh. Tacky-tastic Blackpool is one never ending roller coaster ride after another. Blackpool offers you local fun parks with over 70 different roller coasters on offer at the Pleasure Beach. Don't delay your trip to Blackpool and miss out on the some good honest laughs.
Blackpool Hen Weekends - With FunkiMunki you will enjoy a fantastic Blackpool hen weekend. We specialise in arranging hassle free hen nights and hen parties in Blackpool. We have a wide range of hen weekends and activities to choose from. With a superb range of hen party night options in Blackpool and unique hen weekend ideas and packages you are sure to have a time to remember. For a great hen weekend in Blackpool call us NOW on 0845 508 5508
Blackpool Stag Weekends - Blackpool is a top destination for stag parties looking for a superb stag weekend away. Blackpool is a fantastic option for a quality stag party with plenty of things to do from top daytime activities to an amazing nightlife. Your stag night is sure to be a success and one to remember! For stag nights in Blackpool call us NOW on 0845 508 5508