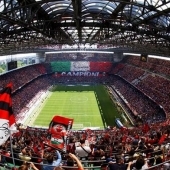 A great opportunity to visit a real "temple" of football: stadio Meazza, better known as San Siro Stadium!
You will visit the ground, the tiers, the changing rooms with a stadium guide, then free time to visit the museum and for some shopping at the official stadium shop.
The stadium is situated in the San Siro district in the Ovest di Milano (Western Milan) area, app. 5.5km from the city centre.
The San Siro Stadium has been inaugurated on the 19th of September 1926. It is one of the most well known stadiums in the world. On this stadium AC Milan and Inter are playing their home matches. The stadium is a gift for AC Milan from Piero Pirelli and it took about a year to finish. It first had four stands with a total capacity of 10.000 seats. In 1939 the San Siro Stadium was rebuilt and the capacity raised to 55.000.
Later in its history, the ramps were rebuilt and the stadium could seat a total of 150.000 spectators. But, for security reasons, Milano's council decided to forbid an attendance higher than 100.000. Due to the World Cup in 1990 who took place in Italy, the San Siro Stadium was again restructured in 1989. This restructuring consisted in a fibreglass roof and eleven stairs towers. The capacity changed to 85.000 as we know it today.
The stadium is specially designed for football. The pitch size is 105×68 metres.
Enquire now or call now on 0845 508 5508
Related categories: Destination Specific Stag Activities, Destinations Abroad, Milan, Organiser, Stag Parties