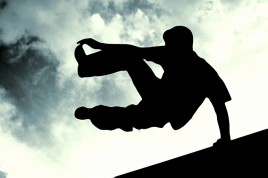 The Urban Assault Course is the inner city adrenaline activity that offers you the opportunity to push your limits and test you metal within a metropolitan environment. Instead of the woods and tress of the country your obstacles are the walls and buildings that you walk past everyday. In this safe and exhilarating activity you will interact with your environment in a way you never thought possible.
Wear loose comfortable clothing that you don't mind getting sweaty in and dirty in! Sports clothing / gear and light sports trainers such as running shoes is ideal. If you want to bring a bag, try to make a small backpack that you can carry easily while running. You may want to bring a bottle of water too (No alcohol please).
If you enjoy physical activity and pushing your boundaries this is for you!
Enquire now or call now on 0845 508 5508
Related categories: Bristol, Destinations in the UK, Hen Do Ideas, Stag Parties