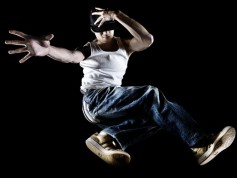 We'll show you how to bump, grind and hip hop it up with your friends in this two hour tutorial. After learning the basics you will go on to practise and perform a fabulous routine. Whatever happens, shake ya ass (show me what you workin with), shake ya ass…Everybody's doing it from Beyonce on MTV to Diversity on Britain's Got Talent. This is a very active and engaging type of dance that combines strength, stamina and coordination. It is bourne out of various dance styles such as hip hop and funk and evolved outside of institutional dance.
Street dance is the perfect balance of physicality and fun. It's sexy, energetic, challenging and a good laugh.
What to expect?
You can expect a professional choreographer taking you through a fun dance warm up following on to a trilling routine and to finish off a grand performance that you and the ladies will be proud off!
Music
The instructor will have a selection of music on the day.
What shall I wear?
The important question tends be what to wear to the dance class? The simple answer is.. It's up to you! For this type of lesson comfortable clothing would be best something like t-shirts, vest and shorts not to forget comfortable footwear like flats or trainers. However fancy dress is also welcome.
Availability
Available time duration for all dance classes are from 10.00 to 18.00.
All dance classes includes:
Professional dance instructor
Private city centre venue
2 hour class
Dazzling bottle of bubbly to take away
All hens receive certificate at the end
If you have a venue of your own we can also come to you.
Enquire now or call now on 0845 508 5508
Related categories: Birmingham, Blackpool, Bournemouth, Brighton, Bristol, Cardiff, Chester, Destinations in the UK, Dublin, Edinburgh, Galway, Glasgow, Hen Do Ideas, Leeds, Liverpool, London, Manchester, Newcastle, Newquay, Nottingham, Oxford, Sheffield, Swansea, York