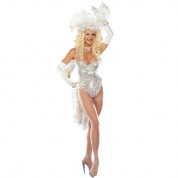 Fancy becoming a Show girl for your London Hen Night? FunkiMunki can get the Show Girl out of you with this glamorous activity. This feminine sexy style of dancing is popular in many of our music videos today, and seen in many classic movies. Think of Pussy Cat Dolls as a modern example!
Duration of dance class: 1 hour 30 minutes
What to expect: A Showgirl Queen to prepare you for the stage. Sultry sexy moves, with some Jazz thrown in. A dazzling routine at they end to dance with your group.
London locations: All over central London.
What to bring: We'll provide the props. Please bring along tights, shorts, skirts and sexy tops!!
Minimum group number: 8 People
Enquire now or call now on 0845 508 5508
Related categories: Destination Specific Hen Activities, Destinations in the UK, Hen Do Ideas, London