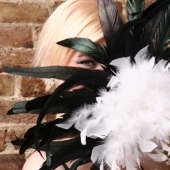 With burlesque all over the news right now (Dita von Teese, Pussycat Dolls, Paris Hilton etc) burlesque parties are getting more and more popular. Burlesque classes are a fantastic chance to have a giggle with your mates and is a good option for parties that want to go straight out afterwards as it is much less strenuous than pole dancing! It is also a great option for parties that contain pregnant women.
Our burlesque parties give you a chance to learn some glamorous 1950's style cabaret routines. During the class you will learn a variety of moves and tricks that you get to put together in a routine. You will learn elements of lap dance and strip tease (no nudity!) as well as getting to play with some fun props like fans and crops. It is a great giggle and a fantastic chance to get dressed up!
Costumes are "tasteful and come in sizes 6-26 with something to suit everyone shape. Bring shoes that are comfortable to dance the night away!
Enquire now or call now on 0845 508 5508
Related categories: Birmingham, Blackpool, Bournemouth, Brighton, Bristol, Cardiff, Chester, Cork, Destinations Abroad, Destinations in the UK, Dublin, Edinburgh, Galway, Glasgow, Hen Do Ideas, Leeds, Liverpool, London, Manchester, Newcastle, Newquay, Nottingham, Oxford, Sheffield, Swansea, York