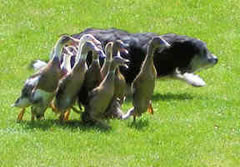 Ever wanted to try something completely different…here's your chance.
Sheep Dog Handling is fast becoming the most popular of the country pursuits, so rid yourself of that city air, grab your Wellies and embrace the country life with a memorable experience which is quite unlike any other.
Sheep Dog Handling is great as part of team development day or a competitive corporate event. This fun, yet challenging activity requires many skills, communication, problem solving and team work are key, though a sense of humour is essential as the outcomes are often highly amusing.
After some tuition you will be equipped with a shepherds crook and a faithful collie that will work to your voice commands. You will then, either in pairs or individually attempt to herd the ducks around a course. The ducks must waddle through the tunnels and gates, down the slide for a quick dip in the pool and then finally back into the pen.
Enquire now or call now on 0845 508 5508
Related categories: Birmingham, Destination Specific Hen Activities, Destination Specific Stag Activities, Destinations Abroad, Destinations in the UK, Hen Do Ideas, Nottingham, Stag Parties