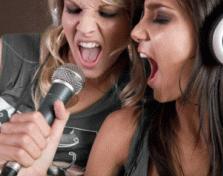 Whether you fancy being a Disco Diva or Abbatastic on the Mic, there is no better way to start your Hen day and get everyone bonded and ready for the night ahead. There are so many classic tracks to choose from and there is nothing better than watching the hen reach those high notes with a glass of bubbly in hand. Join in on the choruses and sing your hearts out. Make it good as you may get to relive it when its played at the wedding! This is a fantastic unique experience for all to share. Food and drink can also be taken with you, just don't spill it on the mixing desk! Champagne provided for large parties.
Everyone gets a CD to take home to play to family and friends or you can choose to have them sent to you the next day by first class post.
How the day works
On arrival your party will be greeted by one of our engineers who will assist all of you with recording your song. Once you are happy with the backing track, you will then go into the vocal booth & record your vocals. Record together or take it turns to do parts of the song, it's up to you. Once you are happy with your performance, you can all then join the engineer at the mixing desk & add vocal effects, change the volume of the vocals & be as creative as you want. The track will then be 'Mastered' & a CD will be created for each of you to take home.
Larger groups can be split into 2 groups to form 2 super groups or they can all record together.
This experience lasts for 3 hours
Enquire now or call now on 0845 508 5508
Related categories: Activity Days, Birmingham, Blackpool, Bournemouth, Brighton, Bristol, Cardiff, Chester, Destinations Abroad, Destinations in the UK, Dublin, Edinburgh, Glasgow, Hen Do Ideas, Leeds, Liverpool, London, Manchester, Newcastle, Nottingham, Oxford, Sheffield, Swansea, York