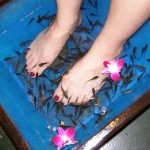 The latest crazy in spa treatments – the Garra Fish pedicure.
A fun activity guaranteed to get giggles with a tickly, tingling sensation as you place your feet in the fish. Relax, chat and drink complimentary wine as you soak your feet and let the fish suck the dead skin (the fish do not bite).
Other treatments such as massage or file and polish are available to finish off the fishes work.
You'll definitely have a spring in your step as you head out to dinner or partying following your relaxing fish pedicure.
Included: Wine, Fish pedicure
Duration: 1 hour
Enquire now or call now on 0845 508 5508
Related categories: Destination Specific Hen Activities, Destinations in the UK, Hen Do Ideas, Manchester, Organiser