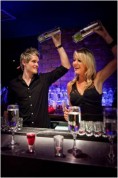 Our cocktail making parties work as a fantastic event for your hen party celebration. The cocktail making lessons are very simple and a whole barrel of fun. Our charming barmen will teach you how to make cocktails from a set menu and you all get the opportunity to make (and most importantly, drink) the cocktails. The class offers a fun & interactive session including welcome drinks, cocktails, flavoured shots, cocktail demos, games and challenges. You will experience the history, tools & skills of mixology whilst getting behind the bar and shake, muddle, strain & stir your way through a range of classic cocktails.
You and the girls are greeted on arrival and shown to the bar where you will be welcomed with a frozen strawberry daiquiri and a quick run through of how the session will work. Each member of the group is given a name sticker (using nicknames, joke names or real names, dependant on the group) and a toast is made to the host with flavoured shots for the whole group!
After a quick demonstration by the bartender every guest gets to go behind the bar and make one classic cocktail. Each guest then gets a second invitation to go behind the bar and choose to make a second cocktail of their choice off the cocktail menu. Before you leave you will know how to make all the different types/styles of cocktails;
Mojito/muddled: Bison Grass Mojito and Raspberry
Martini: Cosmopolitan, Bond Martini, Apple Martini, Margarita
Layered: Long Island Iced Tea
Milky: Russian Bride (White Russian) and Mudslide
Party favourite: Strawberry Woo Woo
Old School: Old Fashioned
Games and tricks: Every session will include some games, fun and team activities like races, blindfold challenges, bar tricks etc. These are fantastic photo opportunities!
Finale: Before the session finishes each guest will be presented with a certificate of participation and the host (hen/stag/birthday boy or girl) will receive a keepsake including cocktail recipes and where possible photographs of the session. A farewell drink is supplied in the form of a 'vodka train' (flavoured vodka bomb domino rally) to end the session! Food & further drinks will then be served to the table, which the group are welcome to stay at for the rest of the afternoon/evening.
 You will therefore each receive:
 A frozen strawberry daiquiri on arrival
A shot to toast the host
Background information on the history of cocktails, bar tools & products
Two cocktails to make & drink
Certificate of participation
Masterclass keepsake & cocktail menu (for the host)
Flavoured shot
Enquire now or call now on 0845 508 5508
Related categories: Activity Days, Birmingham, Blackpool, Bournemouth, Brighton, Bristol, Cardiff, Chester, Destinations in the UK, Edinburgh, Glasgow, Hen Do Ideas, Leeds, Liverpool, London, Manchester, Newcastle, Newquay, Nottingham, Oxford, Sheffield, Swansea, York