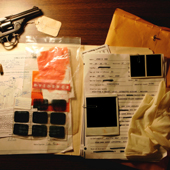 FunkiMunki can provide this high quality, interactive murder mystery evening or weekend event. If you have never tried one before, now is your chance! Whether you are planning for a stag, birthday, hen night or corporate event, this is a great activity for anyone that wants a twist in their party plan's, especially if only you know it is a murder mystery event. We run a variety of private events throughout the year in locations through out the United Kingdom.
We send along two actors to co-ordinate events and move the plot along. Each of the guests is given a character to play for the evening. These characters are based on famous people, so you may be asked to come along as Jane "Bubble" Horlicks or Davina McCallgirl. The plot is based around a group of famous women who have been invited on to a cruise by their very rich and, equally famous, friend. It is not long into the cruise when an unfortunate death occurs. Now who could that be I wonder??? You have to solve the case whilst eating and drinking as is befitting a hen night or weekend.
The event works for between 10 and 20 guests although more can be accommodated with one of our other standard plots. Each guest is sent an invitation letter prior to the event explaining their character, giving tips for costumes and what you have to do. The bride-to-be and groom-to-be are interwoven into the plot as integral characters, as are any other facts you wish to give us about your guests. This is a fun event from start to finish.
The event is normally held in a hotel in your preferred location. This can be anywhere in the country. You just tell us the area and we will suggest a number of hotels for you to choose from with prices. We make all of the arrangements including booking the hotel. You just turn up and enjoy yourselves.
The event can be run as a Murder Mystery Dinner over one evening through to a Murder Mystery Weekend starting on Friday and finishing on Sunday. The timetable for the event is decided by yourselves, so that if you want to have a lie in after a late night then you can do this. Alternatively you may wish to spend time on other activities or just relax at the hotel enjoying their facilities. It is your weekend and so you can decide how it runs. Therefore, if you wish to run it over Saturday and Sunday then that is not a problem.
Enquire now or call now on 0845 508 5508
Related categories: Activity Days, Birmingham, Blackpool, Bournemouth, Brighton, Bristol, Cardiff, Chester, Destinations in the UK, Edinburgh, Glasgow, Hen Do Ideas, Leeds, Liverpool, London, Manchester, Newcastle, Newquay, Nottingham, Oxford, Sheffield, Stag Parties, Swansea, York