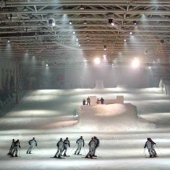 Come Skiing in Madrid's Vast Fridge!
A real ski slope, but indoors – skiing in Madrid happens 365 days a year! This is a serious skiing experience. Forget the "artificial ski slopes" you may have seen elsewhere! This is an awesome 18,000 m2 of "fridge", kept at -2ºc 365 days-a-year by a pretty sophisticated air-conditioning system. At night it snows! The overall effect is so close to being on a real slope in the Alps or the Pyrenees that droves of film-makers are queuing up to take advantage!
With a beginners slope, a snowboard area and an impressive 250m-long main slope, Madrid's Snow Park provides a skiing experience to match any outdoor slope. After a thrilling slalom downhill, the ski-lifts whisk you back to the top, so there's no time wasted!
Typical schedule (total 4 hours):
11:00 Coach pick up at hotel
11:40 Arrive at slopes and get kitted out with
full ski gear in the locker room.
12.00 enter the slopes area, and start
enjoying the snow.
1400 After a full hour's skiing, and time
to use your pass out for refreshments in
the bars, return kit to locker room,
1415 Return to Central Madrid for some
serious apres-ski.
Enquire now or call now on 0845 508 5508
Related categories: Destination Specific Hen Activities, Destination Specific Stag Activities, Destinations Abroad, Hen Do Ideas, Madrid, Stag Parties