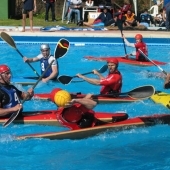 A big favourite with all our groups ! You'll play a game of polo from kayaks and have an enormous laugh trying to balance in the water (expect to get ducked a few times!). The more the game absorbs you, the less you remember to keep your balance….and at the end only a few brave
(and lucky) souls may remain dry. Played in the sports lake of a beautiful park near central Madrid, which makes it a quick trip and a good place to sit around having a beer in the sunshine afterwards.
Typical schedule (4-5 hours):
1130: Pick up time at hotel
1200: Begin kayak polo
1400: A quick beer at the lakeside bar?
1500: Back at the hotel!
What is included:
-Short trip from central Madrid with Public transport (included in price) to nearby park for kayaking.
-Guide + instructor. 1-5 hours of competitive (and hilarious) kayak polo.
-Return public transport with guide.
Enquire now or call now on 0845 508 5508
Related categories: Destination Specific Hen Activities, Destination Specific Stag Activities, Destinations Abroad, Hen Do Ideas, Madrid, Stag Parties