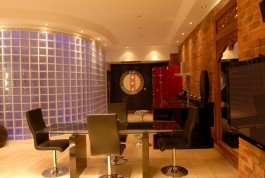 Luxurious apartments positioned in the heart of Liverpool night life and on the doorstep of our countries newest billion pound shopping centre. We can offer our clients the best environment that any boutique hotel can offer with an abundance of space that other hotels simply cannot give. Even our average apartment is at least four times larger than any hotel room sleeping up to 6 people, couple this with the added bonus of being able to cook your own food in our fully equipped kitchen's or walk out of your front door and into any of Liverpool's thriving restaurants as they are just second's away.
We have designed our apartments to raise the level of expectation, even our standard apartments have whirlpool baths and two plasma televisions per apartment and as you can see from our web site the top apartments have mood systems, with this mood system you can enter through your front door press one button and your lights will dim your music will play and your blinds will draw to a close. You will have electric doors that will open and close at a touch of a button, under floor heating, lights that go seventeen different colours, electric blinds, and travertine stone floors.
If it's a party you want then we can help you there also, due to our very high building standard we have ensured through the several layers of sound insulation that you can party through the night without fear of upsetting the neighbours!
Apartments can sleep up to 15!
Enquire now or call now on 0845 508 5508
Related categories: Destination Specific Hen Activities, Destination Specific Stag Activities, Destinations in the UK, Hen Do Ideas, Liverpool, Stag Parties