A weekend of super luxury combining stunning apartment accommodation with any dance class or cocktail making activity. The night ends with VIP guest list entry to a selection of city centre bars and clubs.
Luxury Apartment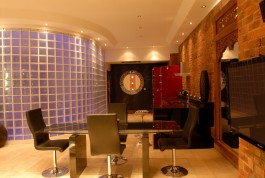 These stunning city centre apartments are sure to be a hit with your group providing a perfect base for a weekend of sheer class! A space defined by your own character and designed to provide a reflection of you as a person. A bold statement for convenience living in the heart of a thriving modern city.
Seamlessly combining cutting edge technology with definitive furnishings, original features and peerless finishing these apartments provide a new concept in modern living.
Afternoon Activity
Choose from a selection of popular dance classes including:
Dance Class
Can-Can, Pole-Dancing, Cheerleading, West End Musical, Burlesque, Street Dance, Hip-Hop and Salsa.
Location: City centre
Duration: 2 Hours
We can cover any form of dance so just ask..
or
Cocktail Making
These Cocktail making sessions are the opportunity to learn how to make favourite cocktails whilst getting to drink them at the same time!
The experience will include an introduction into spirits and the history behind the cocktail. You will learn how spirits and mixers blend together, as well as the techniques and equipment used to create each cocktail. Your experience will take place in the luxurious comfort of a private room where you will have your own personal bar tender who will assist and demonstrate all you need to know to make the perfect cocktail.
The cocktails covered in the session will most likely be:
Mojito, Cosmopolitan, Bloody Mary, Frozen Daiquiri, Long Island, The Bellini, The Vodka Martini and Screaming Multiple Orgasm.
Location: City centre
Duration: 2 hours
VIP Nightclub Entry
We will arrange VIP guest list queue jump entry for you into various trendy bars and nightclubs in the city centre!
From £70.00 (1 night)
From £100.00 (2 nights)
For more details about this package Enquire now or call now on 0845 508 5508