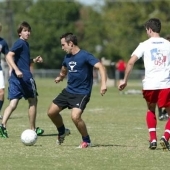 Let us organise a football game for your group. We'll get you a a 5, 7 or 11 a-side football pitch booking in Madrid, supply a ball, and lay on a return coach travel to and from the pitch.
This is the ideal way to create a competitive spirit amongst your group and make sure some of the San Miguels from the night before are sweated out. Due to the vast demand from local amateur leagues, getting a pitch booked locally in Spain can involve queuing and calling, so let the people on the ground do it for you!
Madrid football pitches, as used in the amateur leagues, are usually artificial grass, tennis quick or sand. All of the facilituies we use are tried and trusted and offer top quality surfaces.
Typical schedule (Total: 3.5 hours):
13:00 We'll collect you at your hotel
1400: Kick off!
1545: A keenly -disputed Euro tie ends.
1600: After changing, the bus will take you
straight to the pub for the highlights – or to
watch some real football!
Enquire now or call now on 0845 508 5508
Related categories: Destination Specific Stag Activities, Destinations Abroad, Madrid, Stag Parties