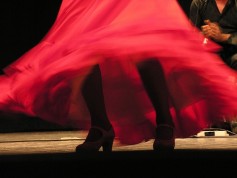 We've all seen the programme. It's your turn to dress up and learn some authentic ballroom steps from our top professionals.
Please choose from these following styles:
Salsa- A hot dance, with lots of shaking, shimmying and hip action. Both solo and pair choreography is taught during the class, with frequent changes of partner so everybody gets a chance to dance together!
Argentine Tango- A spirited and powerful seductive dance. Long pauses, stylized body positions, and lots of leg movement! Get ready to partner up and dance the night away.
Samba- A Brazilian style of dance with many variations. Experience your own mini carnival, and prepare to start rocking and shaking those hips.
Ballroom- Choose one of your favourite traditional partner dances or why not try a mix of them all- Lindy Hop, Swing, Hustle, Jive, the Waltz, the Foxtrot and Rock and Roll. A real flavour of the strictly dancing experience!
Duration of dance class: 1 hour 30 minutes
What to expect: Top professional choreographers and teachers to take you through your favourite dance steps.
Enquire now or call now on 0845 508 5508
Related categories: Destination Specific Hen Activities, Destinations in the UK, Hen Do Ideas, London