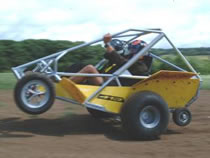 The Powerturn Buggy is a vehicle unlike any other, providing maximum fun with maximum safety. The two drive wheels are powered at different speeds by two engines to make the Powerturn "turn".
The Powerturn buggies are operated only by two levers – there is no steering wheel or pedals involved! This enables the buggies to do things safely that normal buggies can't, such as spinning on the spot and wheelies while you drive – even around corners.Two people can drive this amazing vehicle at once by operating a lever each, though good communication is needed if you want to get anywhere.
For the more serious driver going alone, the Powerturn Buggy can reach speeds in excess of 30mph. They can often be driven round a track quicker than a conventionally steered vehicle – but it's also great fun sliding it and spinning it in all directions.
You can move through more angles with more speed than anything else you can control yourself. The extra movement dimension, acceleration and cornering potential provide greater excitement all at lower speeds than many conventional vehicles.
This activity is ideal as part of a team building activity package and is also great fun for stag and hen parties.
Enquire now or call now on 0845 508 5508
Related categories: Activity Days, Birmingham, Destination Specific Hen Activities, Destination Specific Stag Activities, Destinations in the UK, Hen Do Ideas, Nottingham, Stag Parties