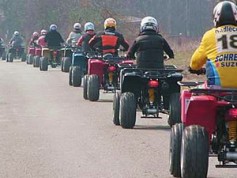 Quad track has a beer garden and equipment for barbequing. The event consists of racing the track against the clock and having approx 3 mile quad safari across neighbouring forest, fields and around the lake. The group is inducted and then all available quads are taken to safari whilst one left at the track to race in turns against the clock. Once the first lot completes safari, the next goes etc. Whilst waiting for their turn to go on safari participants are having barbecues.
Food for barbecue and two pints of lager are included in price.
Protective gear, gloves, helmets, overalls are provided.
Minimum group size – 4
Time needed for activity – 2.5 hrs
Location info – 30 min drive from Riga center
Enquire now or call now on 0845 508 5508
Related categories: Destination Specific Stag Activities, Destinations Abroad, Riga, Stag Parties