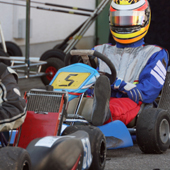 60,000sq ft of track area with two 360 meter indoor tracks, Flyovers, underpasses, banked corners and hills, Helmets, Gloves and Race suits supplied, Race briefing and Instruction, Race Commentaries, Computerised timing and scoring system on each track, Video monitors in pits and viewing areas, Electronic leader boards with driver lap times on both tracks, Trophies and certificates for race winners.
Championship Race: All of the drivers get a practice session followed by 4 qualifying heats, (with 4 drivers in each heat) one heat from each grid position. Following the heats, Graded Finals are run, grids determined by the points scored in the qualifying heats. The A Final for the top 6 drivers being run over 10 laps, the B Final over 8 laps and all other finals over 6 laps. Approx 2 hours
Mini Endurance: Ideal for the smaller groups – limited to 4-8 drivers. Following a practice session, two 25 lap heats (approx. 15 minutes each) are run, the grid for the second heat being the reverse of heat 1 finishing order.
Full Grand Prix: Top of the range exclusive race meetings for groups from 9 -60 drivers, ideal for corporate entertaining. All drivers get a practice session followed by 4 qualifying heats, (with 4 drivers in each heat) one heat from each grid position. Following the heats up to 4 quarter finals are run, in the knock out section, for which grid positions are determined by the points scored in the heats. The top 10 drivers go through to two semi-finals with the first three drivers in each going into the 15 lap Grand Final
Enquire now or call now on 0845 508 5508
Related categories: Destination Specific Hen Activities, Destination Specific Stag Activities, Destinations Abroad, Dublin, Hen Do Ideas, Stag Parties