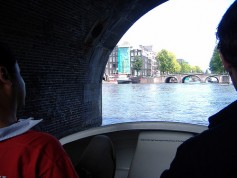 This will tax your brain and your thighs. Your group will collect your pedalo's and embark on an orienteering adventure through the canals of Amsterdam. On the way you will have to figure out clues and arrive at key destinations. You'll be competing in 4′s against other members of your group with the winning group receiving a bottle of champers as the prize.
Includes:
- Canal bikes (4 people perbike)
- Half time break + free drinks
- Competition orienteering + questions
- A bottle of champagne for the winning team.
Minimum number of participants required 10
Duration 2.5 hours
Enquire now or call now on 0845 508 5508
Related categories: Amsterdam, Destination Specific Hen Activities, Destination Specific Stag Activities, Destinations Abroad, Hen Do Ideas, Stag Parties